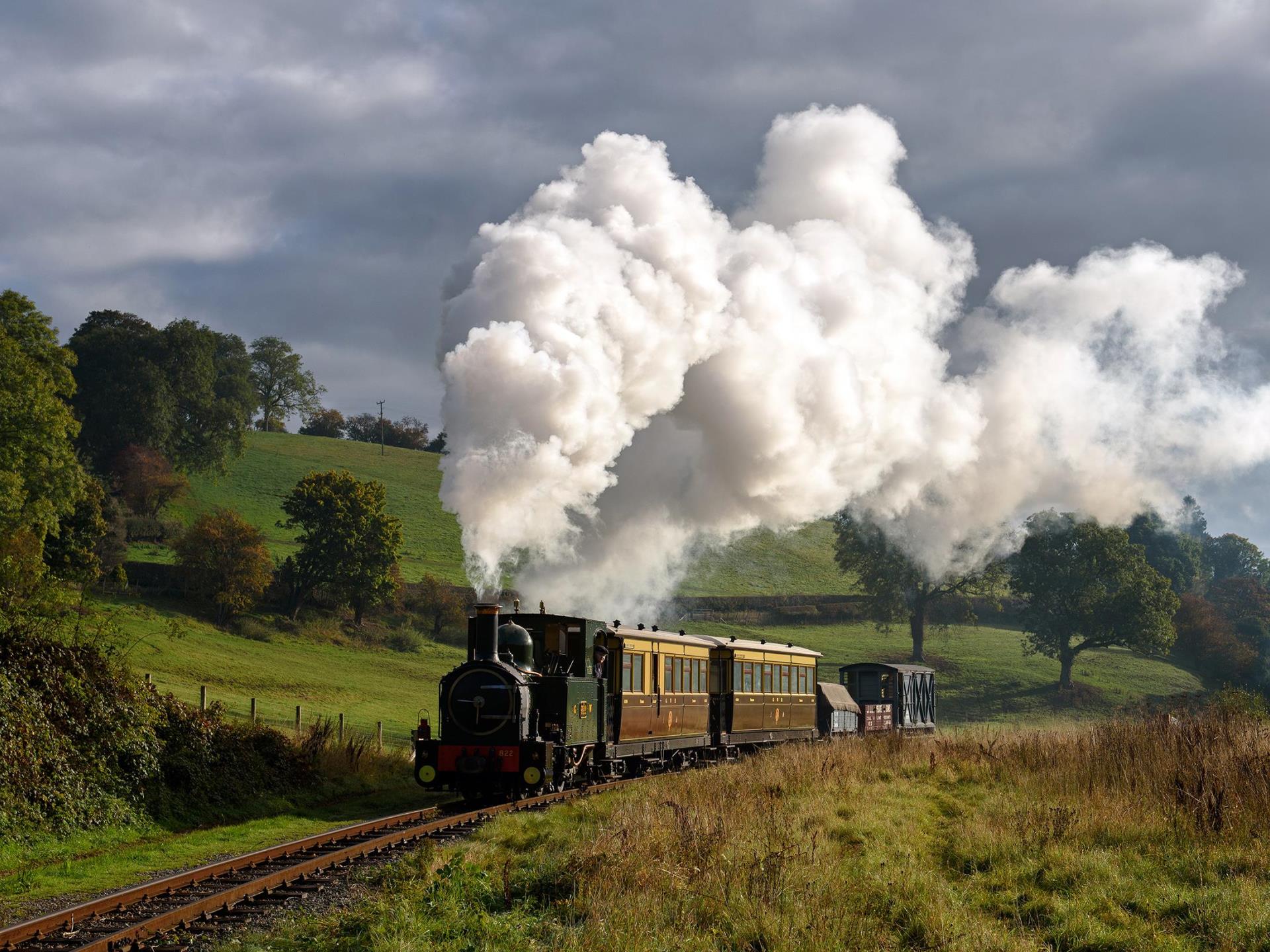 About Welshpool & Llanfair Light Railway
16 mile return journey by narrow gauge steam train through beautiful Mid Wales countryside.

Opened in 1903 to link the market town of Welshpool to the rural community of Llanfair Caereinion, this 2 foot 6 inch narrow gauge steam railway now provides a tourist service for all the family and a welcome change from the rush of everyday life. Built as a Light Railway to avoid some of the costs of railway construction, the narrow gauge allows for tight curves and steep gradients, enabling the line to follow the contours of the countryside. Most of our trains are steam hauled, either by one of our unique original locomotives or one from abroad. The carriages too are special; those in regular use being from Hungary and Austria with access to the enclosed seating area via an open balcony - a great way to watch the world go by.

Your journey begins on the edge of the historic market town of Welshpool. Right from the start it is all action as the train battles up the notoriously steep Golfa Bank accompanied by the sound of the locomotive echoing off the hills.
From the open balconies of our unique Hungarian and Austrian coaches you will see the beautiful mid Wales countryside roll slowly by as you travel into the delightful Banwy Valley.

Your train will be hauled by either one of our historic steam locomotives which include 'The Earl' and 'The Countess' supplied new to the railway in 1902 or one of our other operational steam locomotives were built for use in Sierra Leone and Romania.

As your journey unfolds through this picturesque part of Wales you may well see deer, hawks and even otters. As you approach your journey's end the train travels along the River Banwy into Llanfair Caereinion. Here you can visit our shop, have a snack in the Tea Room or chat to our friendly staff who are happy to answer any questions. Or you may just want to take a leisurely stroll by the river.

Please note that the Raven Square Station, Welshpool is closed during the winter.
Like what you see at

Welshpool & Llanfair Light Railway
NOTE: The above information is generated by third-party data provided by Welshpool & Llanfair Light Railway. © Welshpool & Llanfair Light Railway 2023.

Please note that the Welsh Government is not responsible for information supplied by third parties and/or the content of external websites. Please make your own enquiries and assessments as to the suitability and quality of services being offered by third party providers.
If you wish to raise an issue with the product displayed above, please contact us via product.database@gov.wales